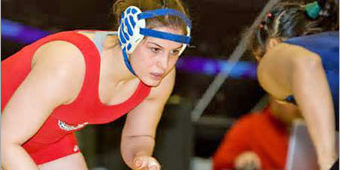 At the tender age of 6, Adeline Gray fell in love with wrestling. "I got into my sport through my father. He was the youngest of seven boys and had four daughters; so he taught me something he knew and loved," Adeline explained. "I ended up being pretty good at it."
"Pretty good" is an understatement; Adeline holds the 2012 World Champion title, 2013 U.S. World Team Trials Champion title, the 2014 World Wrestling Championship gold medal in her weight class, and dozens of other prestigious awards and titles.
To keep on top of her game, the 2012 Summer Games team alternate spends six days a week on the mat. "The commitment (to wrestling) is more than hard work, it is consistency and focus," Adeline said. "I put everything I have into training because I love to win." And judging by her complete devotion to her sport, we have no doubt that she will continue to do just that.
2014 World Wrestling Championship gold medal
2013 U.S. World Team Trials champion
2012 London Games alternate
2012 World Champion 67 kgs
2012 University World Champ 72 kgs
2009 Senior Worlds-fifth place 67 kgs
2009 Women's World Team 67 kgs
2008 Juniors World Champion 67 kgs
2009 Women's National Team 67 kgs
2009 Juniors World Team 67 kgs
2008 Women's National Team 67 kgs
2008 Juniors World Team 67 kgs
"I used the Shaklee bars and smoothees when I was making my weight category to try out for the 2012 games, and I felt and looked great!*"
FAVORITE SHAKLEE PRODUCTS