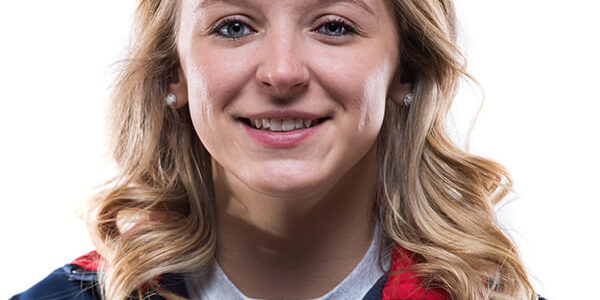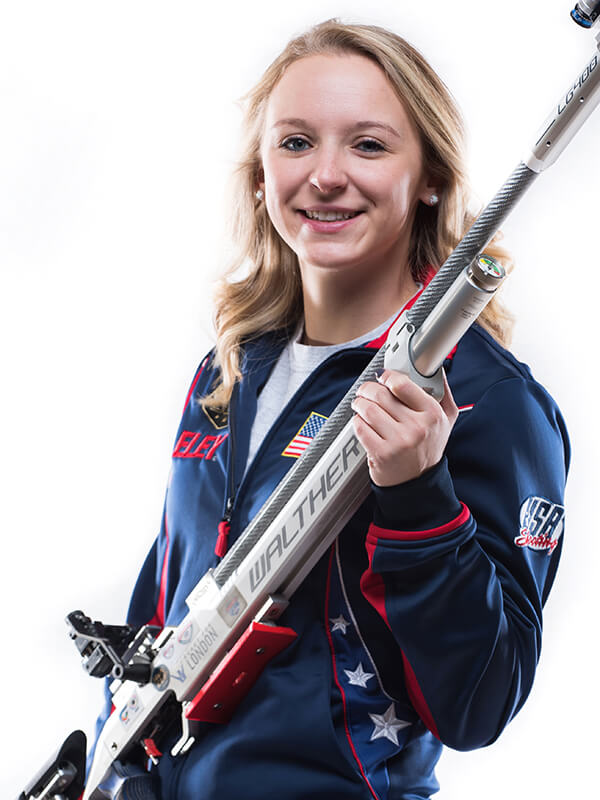 It's in the cards
World-famous markswoman Annie Oakley would affix an Ace of Spades playing card to a post, then step back 30 paces and shoot the card right through the middle of the spade.  Nice.  Then she'd rotate the card 90 degrees so that she was looking at it edge-wise, step back 30 paces, and then pause a long while, mostly for dramatic effect. Then she'd snap her rifle to her shoulder, pull the trigger and slice that playing card in two, the bullet cutting it clean.  Really nice!
Fast forward 125 years where Ali Weisz is standing on the firing line of the University of Mississippi shooting range, a playing card placed edge-wise downrange, and a crowd of anxious parents, supporters, and coaches watching.  She breaths deep, pauses a long while—though not mostly for dramatic effect, since this is a really difficult trick shot—shoulders her rifle, aligns her sights, lets out half a breath, and squeezes the trigger.
And then splits that edgewise playing card in two, the bullet cutting it clean.  Really nice!
"Making the USA Team for the 2020 Games is definitely the highlight of my shooting career so far," said Ali, "but that moment on the range was carrying a lot of emotions.  I mean, I couldn't even really see the card!"  One thing she could see when she was shooting for the Ole Miss rifle team was an eventual spot on the 2020 Games US Team.  "It was a long journey for me, but I never gave up on the dream," explained the 10-meter Air Rifle specialist.  "As a junior shooter and through high school I never made the US Teams like the other good shooters my age.  But I kept pressing on through college and then made the US National Team after college in 2017."
That desire to press forward has become a strength for Ali. "I really learned adaptability to a variety of situations, how to deal with equipment and target malfunctions, and any number of things that would disrupt my plans," she said.  "I learned to dig deep when I needed to, shoot those deep 10s (center shots), push hard and just grind.  Now I really want to see how far I can push myself, how far I can extend my limits."
Ali should have plenty of opportunities to push those limits, starting at the 2020 Tokyo Games.  And since shooting is a sport she can chase for many years, she has her sights set on competing through the 2028 Games in L.A.  But first things first: "I'm continuing my work toward earning my Registered Dietitian certification, serving as a graduate assistant coach at the University of Memphis, and of course, focusing on improving during the postponement of the Games."
No doubt Ali will keep pressing on, keep improving, keep pushing the limits.  This modern-day Ali Oakley is bound and determined to succeed and it seems certain that she will . . . after all, we might say, it's in the cards!
Achievements
2020 Games qualifier, 10-meter Air Rifle
2019 Pan American Games  —  Gold Medalist
2018 Championship of the Americas Games — Silver Medalist
2017 USA National Champion, 10-meter Air Rifle
Follow Ali
Facebook: ali.weisz.9
Instagram:  @a_weisz7
Twitter:  @a_weisz