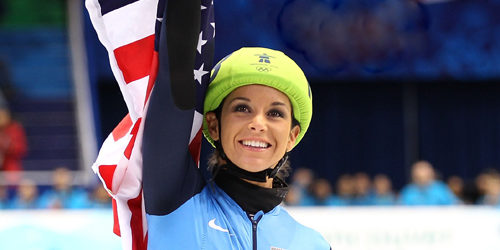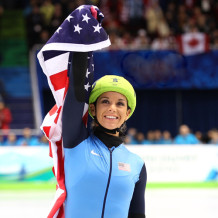 A three-time Winter Games competitor, Allison won her first medal at the 2010 Vancouver Games as a member of the bronze medal-winning women's 3,000-meter relay team. But her journey to Vancouver started way back in Sinking Spring, Pennsylvania where she began her sporting life as a roller skater.
Allison graduated to inline roller skating at age 14, and competed in the first world championships in the sport. All it took for her to trade in her inline skates for the long thin blades of an ice speedskater was to watch the U.S. trials for short track.
Often referred to as "NASCAR on ice" because of its mass starts, potential for crashes and "go fast, turn left" similarities, short track speedskating can be downright dangerous: Allison once received 47 stitches in her head and face after one particularly bad crash. She has also torn ankle ligaments twice, sprained her back, seriously broken her leg, and developed an autonomic nerve problem and an internal infection while in competition.
Then there's her equipment: a pair of her customized pink speedskating blades cost nearly $2,000 and are kept extremely sharp. They're also bent at a slight arc in the direction of the counterclockwise turn of the race. Highly competitive athletes like Allison also often round their already thin blades because having a flat surface makes turning more difficult.
Not content with on-ice success, in 2010 Allison turned her prodigious energy towards creating the "Off the ice" foundation to "promote sport as the road to achieving an active lifestyle that inspires health, creates character values and instills goal development; enabling children to 'achieve great things' in all they do."
2013 Short Track American Cup Overall Title,
2013 North American Long Track Champion – 3000m.
American Record Holder in 1500m and the 3000m Relay
2010 Vancouver Winter Games – bronze medal in 3,000-meter relay
2007 ISU Short Track World Cup, National Champion
2006 Turin Winter Games – Competitor
2002 Salt Lake Winter Games – Competitor
"You have to ask yourself what you goals are, what your dreams are, what it is you really love to do. You can apply these principles to every aspect of your life."
FAVORITE SHAKLEE PRODUCTS