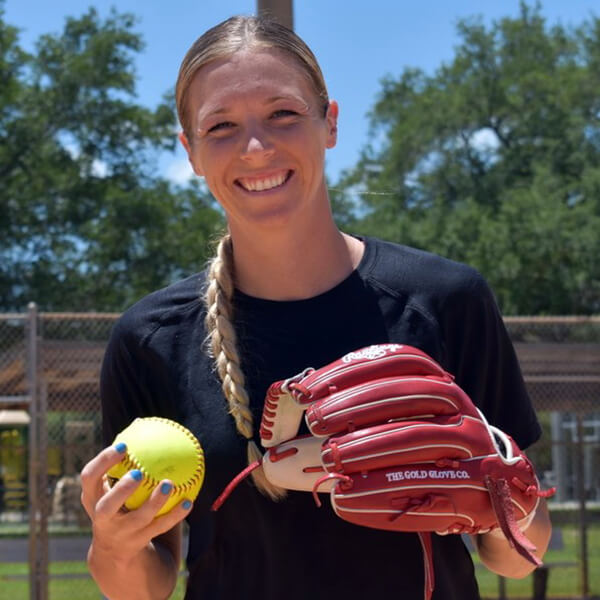 Slash and Burn
Ally Carda sits motionless, still as the night.  Her eyes are closed, breathing steady. And now she slides her right arm in the small arc of sweeping motion and then slowly opens her eyes.  She breaths deeply, maybe reveals a trace of a smile.
She just saw—no, she saw and felt and sensed—a 72 MPH riseball pitch shoot from her powerful arm and slice right up the inside corner of home plate. Thwak!  She heard and felt and sensed the ball slam into the catcher's glove.  Ally has thrown that pitch on the mound thousands of times, and seen and felt and sensed it perhaps a million times in her mind.  It is deeply satisfying to her, this mindfulness that ends in that trace of a smile.  "I just love to play softball," says Ally, "and I love pitching the best.  But I also enjoy working on a lot of areas of the game."
Indeed, Ally is more than just a master on the mound; she also plays infield, some outfield, first base – "thrown all over the place, in a good way," she boasts.  "I like to be known as a versatile player.  It really helps me feel the 'team first' attitude we need to succeed."  If we were to trace Ally's foot path, we might see a spaghetti chart with stops all over field, a true "slash" athlete who can play ably at pitcher/outfielder/first base/hitter/utility.  That slash label is one of the highest complements an athlete can receive, and even more so for Ally, who prides herself on her strong mental game as well as her athleticism.
We might wonder if Ally's practice of mindfulness is the perfect symbol for her game: a stillness that results in an explosion of purpose and mental might.  That calm-before-the-storm image certainly holds true for her pitching on the mound, as she calmly stares down the batters before zipping her power-pitch right past them.  It's a fireball that burns the batters, smoking the competition . . . just like she has seen in her mind a million times.
Ally and her USA teammates will take the field as strong favorites to compete for a medal in Tokyo 2020, but she's not focused on the medal.  "I focus on the process, and not the end result," said Ally.  "When I do that, good things happen and we are awesome and unbeatable."
In other words, slash and burn!