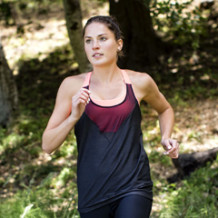 The ice. The gym. And the medal.
Alyson realized a lifelong dream when she won a bronze medal in short track speed skating at the 2010 Vancouver Games—a dream that began while watching the 1998 Nagano Games in front of the family TV as an 8 year old. Inspired by the athletes, she proclaimed to her mother that she would one day win a medal.
Her dream started on its way to reality shortly thereafter when the young skater found herself on the Pettit National Ice Center in Wisconsin, being ushered around the oval on wobbly skates by none other than Casey FitzRandolph, an eventual gold medalist in speed skating. "It was one of the most inspirational moments of my life growing up," Alyson said. She's since competed in her second Winter Games at the 2014 Games in Sochi, Russia.
But Alyson's dream didn't just happen, it took hard effort—a lot of it. When training, she typically does her dry-land work in the morning first, usually cardio and skating-specific exercises and drills. Then she'll strap on her skates and get on the ice for two hours. Add another hour of cardio—stair-climbing, biking, running—and more skating exercises, and she's just getting started. Afternoons are usually a mix of more cardio and weight training, but at times Alyson comes back and repeats her morning routine. She doesn't leave until 6:00 p.m. If she's in school, she'll take a class from 7-9:00 p.m.
Shaklee is a part of Alyson's next big dream, "because I love the company's focus on a healthy lifestyle that includes the right foods and supplements. And I want to help others see how much happier you can feel and how much better you can be with good health and fitness."
2014 Sochi Games
2014 Vancouver Games (team relay) bronze medal
2009-2013 World Championship team
Three-time World Championship bronze medalist
Seven-time world cup medalist (six silvers, one bronze)
American record-holder (500m, 3,000m relay)
"When I'm training 10 hours a day, Shaklee helps to keep me energized and my joints in top shape."