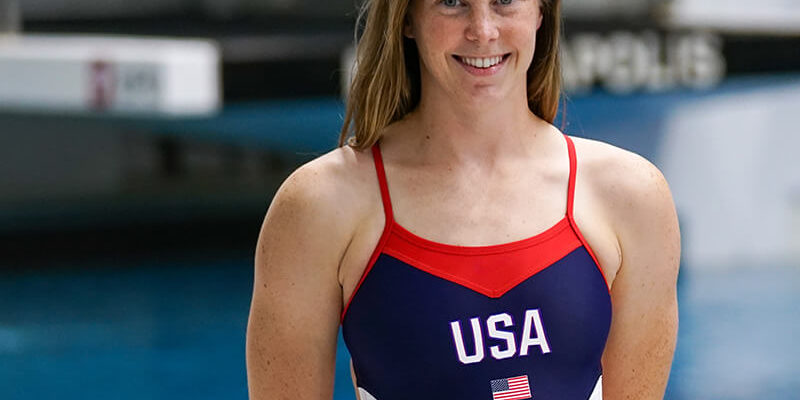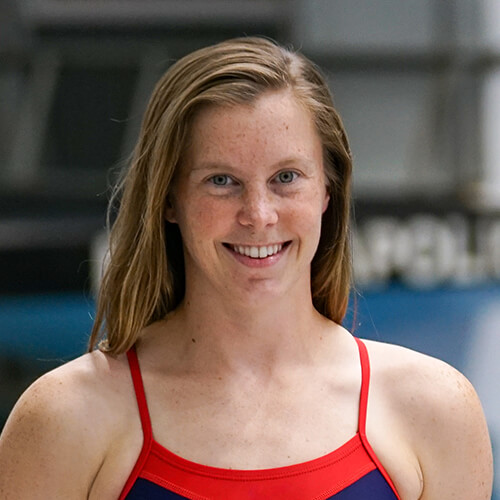 Amy Cozad Magaña inched out to the end of the 10 meter platform, her back to the water, arms outstretched.  She rose up, perhaps with less surface contact on her toes than a ballerina.  The next 1.5 seconds was an explosion of perfectly executed twists, turns, and flips that resulted not a splash, but a mere frothy bubbling of the water.
She emerged from the water, glanced up at the platform, and grinned.
Though she's executed thousands of difficult dives over a 16 year span, she's never forgotten the real platform that launched her diving career: the relationships that give her the strength and inspiration to be the best.  "I love my team, my teammates, and my coach, and I wouldn't trade them for the world," said Amy.  She draws special inspiration from her Aunt Janet Sizelove, who played a significant role in raising her.  And her coach, Sean McCarthy, was with her from the very beginning.  "I switched coaches prior to the 2016 Olympic Games," explained Amy, "but now I've switched back to Sean and I really feel at home."
The support from friends and family—as well as her own hard work—has allowed Amy to thrive in 2018 and 2019, setting her up for a great charge to qualify for the 2020 Olympic Games in Tokyo.  But she's faced challenges along the way, including health concerns.  In 2018 she wasn't feeling the explosive crispness that was her trademark, so she worked with a dietitian, Diana Vogel, and discovered a lack of Vitamin D and other deficiencies in her blood.  The dietitian recommended that Amy start taking Shaklee's Performance Build Physique 100%Grass Fed Whey protein shakes.  "That boosted my protein and vitamins; my bloodwork was back to normal, and I've had a string of solid competitions since then," said Amy.
In her sport, Amy has a great view of the crowd as she climbs to the 10 meter platform. "I see the kids, and I dive on a club team with kids of all ages," said Amy.  "I want to encourage them to set their goals higher and dream bigger. I want them to know, through my accomplishments, that they can achieve their goals too. I want to push them to give their best effort every single day at practice and I want to be pushed by them when it's Friday afternoon and I have no energy left."
Ten meters is a long way up, but very comfortable for Amy.  Again she inches into position.  She deftly pats her core, centers herself, and prepares for the launch from a platform that is very solid indeed.
Achievements:
2016 U.S. Olympian
Ten-time USA Diving National Champion
Big Ten Conference Champion and 2013 Record Holder
NCAA All-American
Awarded Big Ten Medal of Honor in 2013
Awarded Sagamore of the Wabash in 2016
Bronze Medalist at 2019 Pan American Games
More:
Facebook: Amy Cozad Magaña
Instagram:  @amy.cozad.magana
Favorite Product:
Performance Build Physique 100% Grass Fed Whey Protein, Chocolate and Vanilla