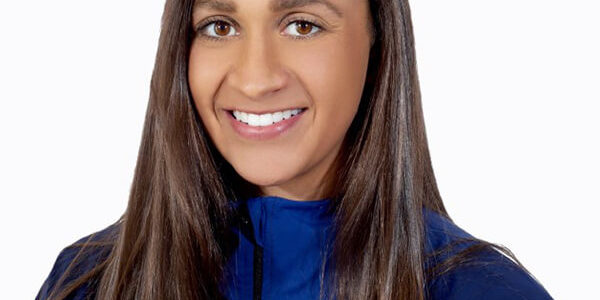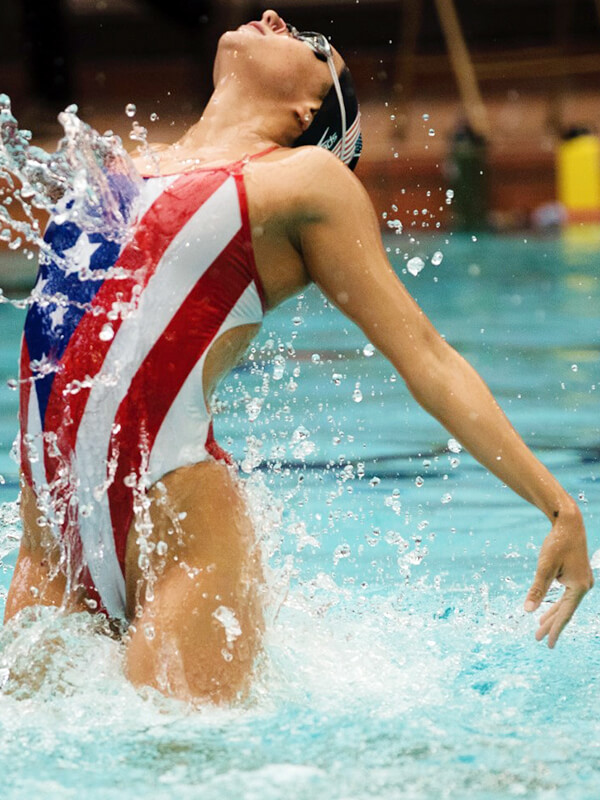 Breathtaking
Many people want to know:  How long can you hold your breath, Anita Alvarez?  "I don't really know," says this 2016 and 2020 Games USA Team member in Artistic Swimming.  "I know I can swim 75 meters under water, but most of our performance includes moving continuously while holding our breath for activity that equals about a mile."  The hardest part, of course, is making all those difficult and synchronized water movements look effortless, which means not heaving or gasping for air between elements.
"Our team is known for it's innovative, creative, and artistic choreography, so we need to make it look appealing to watch," said Anita.  "We need to be at a very high level of technique and execution, which requires great conditioning (i.e., holding your breath), so that we can present that overall entertaining and intriguing performance."
Anita tried a variety of sports growing up, and loved them all, but really took to Artistic Swimming because "it's really artistic, and includes gymnastics, ballet, dance, and requires power, explosion, speed, agility, and endurance," explained Anita.  "It's a well-rounded sport that includes skills from all those other sports."
But being well-rounded is only part of the allure of the sport for this athlete who competes in the Solo, Duet, and Team events.  "I've been self-motivated since a young athlete; that self-determination and inner motivation  makes me want to push my mind and body to my limits, see how far I can go," said Anita.  "Artistic swimming offers so many areas to master, to work on—so I can definitely push all the time."
Anita and her teammates will have some additional time to perfect their routines due to the postponement of the Games, but that's fine with her.  "I've been working at this for the past eight years since I was 16 . . . I've really invested a lot, so I really want to nail it this time around.  I absolutely love to do this sport, and the extra time will allow me to get out there a little more, get some name recognition for our team, and more international experience."  Meanwhile, the world can hold its collective breath while Anita, her teammates, and teams in sports all around the world look forward to converging on Tokyo for the Games in 2021.  When that happens, we can expect every performance, especially Anita's, will be nothing short of breathtaking!
Accomplishments:
2019: USA Synchro Athlete of the Year
2018: China Open, 3rd (Duet Tech); 3rd (Duet Free)
2017: China Open- 1st (Solo Tech); 2nd (Duet Tech&Free)
2016: USA Synchro Athlete of the Year
2016: 27th German Open, 3rd (Duet); French Open, 3rd (Duet)
2015: US Nationals, 1st (Team); French Open, 6th (Duet)
2014: US Open- 1st (Duet), 1st (Team); Brazil Open- 7th (Duet); French Open- 11th (Duet); East Zone Athlete of the Year
2013: UANA Pan American Championships, 1st (Team)
2012: US Junior Nationals, 12th (Solo), 15th (Figures); US Age Group Nationals, 1st (Solo), 1st (Figures), 2nd (Duet)
2011: US Age Group Nationals, 3rd (Solo), 4th (Figures), 1st (Duet), 2nd (Team)
2010: US Age Group Nationals, 1st (Team), 9th (Solo)
2019: Pan American Games 2x Bronze Medal (Team and Duet)
2015: Pan American Games Bronze Medal (Team)
Follow:
Facebook:  Anita Alvarez
Instagram:  @anitaaalvarez
Twitter: @anitaaalvarez12