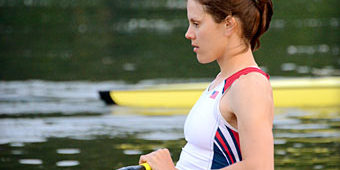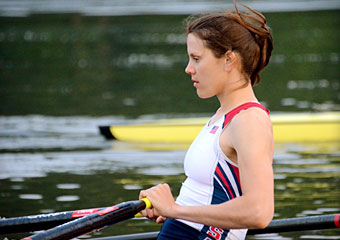 Row, row, row your boat—to 3 medals
Long-limbed Caryn Davies was 13 years old when, "tagging along behind my father in a local grocery store, a large man walked up, pointed at me, and said 'I want YOU for rowing!'" With her height, Caryn had the obvious physical potential to be a star rower, but it was her hard work and an unwavering pursuit of excellence that earned her incredible success in the sport. With an undergraduate degree from Harvard and a law degree from Columbia, this 3-time summer games competitor has won more medals than any other American oarswoman—most recently competing at the 2012 Games in London, and winning a second gold medal in the women's eight.
Sitting in the 8-woman hull in the "stroke" position, Caryn sets the pace for the entire team over the 2,000-meter course. And her training regimen would put many elite athletes to shame. That's because of the demands of the sport. Time Magazine equates a rowing race as doing 200 barbell lifts from knees to chest while simultaneously doing leg squats, which requires sucking in and metabolizing three times the oxygen that most of us do. In fact, according to Time, the difference between gold-medal glory and a fourth-place finish is, on average, producing just an extra one-half of 1% more energy during the course of the race.
Caryn knows that part of that medal-winning difference comes from her nutritional intake, which is why she's been fueling herself with Shaklee products for years. "I actually wish I had discovered Shaklee earlier, but I'm just glad that I've started using it now, and I will continue to use it for the rest of my life. What I like about Shaklee products as compared to some of the other products I've tried is, for one thing, the purity. I know everything that's in the product and there's nothing more and nothing less. I want to know what I'm putting into my body. I want to know that it's safe, and I want to know that it's effective—and that's what I found in Shaklee products."
Favorite Products
YOUTH® Age Defense Mineral Moisturizer SPF 30,
YOUTH Advanced Renewal Night Cream (Rich),
Meal-in-a-Bar (all flavors)
Energy Chews
Performance Hydrate+ Endurance Electrolyte Drink.
Gold medalist in the London Games: 2012
Gold medalist in the Beijing Games: 2008
Silver medalist in the Athens Games: 2004
Winner Senior World Championship Trials: 2011
Gold medalist Rowing World Cup: 2011, 2008, 2004
Silver medalist Rowing World Cup: 2006
Bronze medalist Rowing World Cup: 2005
Gold medalist World Rowing Championships: 2007, 2006, 2003, 2002
Silver medalist Rowing World Cup: 2006
"When we were sitting on the starting line in London, I got out a Shaklee Energy Chew and ate it right before the race."