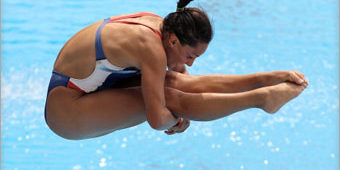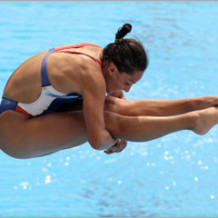 Life has its ups, downs…and twists
A two-time Summer Games competitor and nine-time national champion, Christina Loukas has been head-over-heels in the sport of diving nearly her entire life. She's competed at elite levels in 1-meter, 3-meter, synchronized 3-meter, and synchronized 10-meter diving. But before she dedicated herself to diving, Christina dabbled in nearly every sport she could find: softball, basketball, ice skating, and gymnastics among them.
Immediately after the 2008 Beijing Games (where she placed ninth), Christina began work for 2012, until a lifetime of competitive stress collapsed her confidence. "I had mental blocks. I couldn't dive anymore. I couldn't do dives I'd been doing for years," she recalled to a journalist. "It was horrible. I dreaded it." Having suddenly lost the one thing that defined her daily life, Christina grew depressed.
After unsuccessfully dealing with the stress for nearly a year, Christina decided to retire from diving and go home. But eight months after calling it quits, family time revived her dream to medal in the Games again. She found a new city, a new coach, and a new attitude. Two years later she was back on the board and headed to London.
She didn't take home any medals in 2012, but the comeback experience fulfilled the dream to represent her country again. Christina is now retired as an active competitor but continues to work with other athletes and be involved in sports. She's also pursuing a career in sports medicine and attending physical therapy school.
2012 London Games, competitor
2008 Beijing Games,competitor
2012 FINA Diving World Series (Dubai, Tijuana), 3-meter synchro, silver medal
bronze medalist on 3-meter (Tijuana)
2011 FINA World Championships (Shanghai)3-meter, fourth (first top-four finish by a American woman on 3-meter at Worlds since 1994)
2009 FINA World Championships (Rome) 3-meter, eighth
"At an early age I learned what's important: hard work, determination, and goal setting."