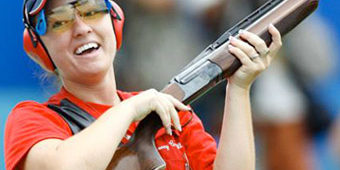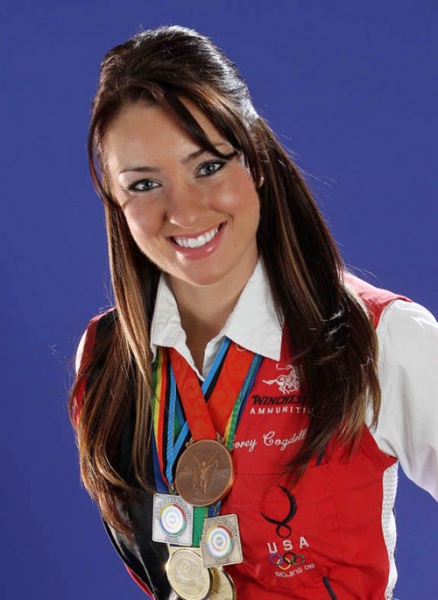 Top Shot
For Corey (Cogdell) Unrein, making history is a blast. At the 2008 Beijing Summer Games, the Alaska native became the first American woman to medal in the sport of Trap (shotgun) shooting—a mere two years after she began competing in 2006. She started earning medals in 2007, placed first against many veteran shotgunners at the 2008 Women's Trap trials, and also competed in the 2012 London Games.
Training at a high-caliber level takes a tremendous amount of dedication, determination, and desire. On a daily basis, Corey trains from 9 a.m. to 3 p.m. at the shooting range with both shooting and running drills. She then transitions into strength workouts in the gym—which last between an hour and an hour and a half—along with weekly sessions with a mental conditioning coach.
She made her third trip to the Games in 2016, claiming another bronze medal in Rio de Janeiro.  This future Hall of Fame shooter has also claimed numerous World Cup and National Championship medals.  In 2019 she gave birth to her son, but continues to train and complete at the highest level.  Her husband, Mitch Unrein, is a nine-year veteran of the NFL.  With all that athletic talent in one family, we might expect the accompanying stress of competition, busy schedules, and a baby boy.  But Corey and Mitch mitigate that stress by dedicating time each day they are together to talk about their days, converse, share that focused time.  Evidently, they thrive on stress and chaos, as evidenced by Corey's winning the bronze medal in Rio, but they still definitely enjoy quiet time together.
Corey also enjoys riding motorcycles, rock climbing, hunting, fishing and downhill skiing.
Achievements
2014 National Championships, gold medalist
2013 World Cup Finals, 12th Place
2013 USA Shooting Shotgun Athlete of the Year
2013 National Championships, silver medalist
2013 World Cup Granada, bronze medalist (tied qualifying WR of 75/75)
2013 Spring Selection, silver medalist
2012 London Games competitor
2012 World Cup Tucson, gold medalist
2011 World Clay Target Championship, 6th place
2010 Championship of the Americas, gold medalist
2010 World Championship, 8th place
2010 National Championship, bronze medalist
2010 World Cup Acapulco, silver medalist
2009 National Championship, gold medalist
2008 Beijing Games, bronze medalist
2008 U.S. Trials, 1st place
2007 Pan American Games, bronze medalist
2007 World Cup Korea, bronze medalist
2007 National Championship, bronze medalist
"I think every athlete has days when they don't feel like training or putting in 100%. But the difference between a good athlete and a great athlete is someone who can fight through a slump."