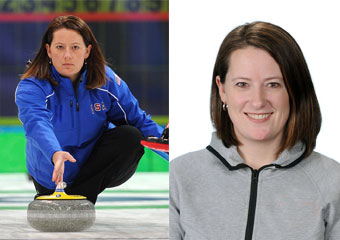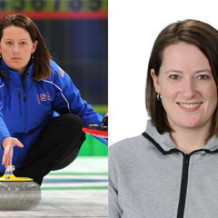 It just seemed natural for Debbie, who's competed in the Games four times, to gravitate toward curling. Her father, Wally Henry, is an avid curler and won bronze medals in both the 1986 and 1991 World Curling Championships. He introduced her to the sport when she was a child, and she and her brother were practically raised at their local Wisconsin curling club in the wintertime. "I remember us sitting on the curling stones and pushing each other around on the ice; once we got too big to do that, we started playing," Debbie said.
A former "skip" (a curling team's on-ice captain), Debbie directed the United States national team to its first win of a World Championship in women's curling in 2003 by defeating her native Canada in the final. In 2006, she won a silver medal at the World Championship; defended the US title in 2007; and went on to win the 2008 and 2009 US National Championships.
There was a time when the notion of physical conditioning for curling was controversial. But now the sport is in the midst of a fitness revolution. In a typical game, curlers will walk two miles or more. Strength and endurance play their biggest role in sweeping, in which two players directed by the skip's "Hurry hard!" command vigorously scrub the ice in front of the sliding curling stone to reduce friction and help it travel further. The greater the force a sweeper can apply, the farther and faster the stone will go.
Having competed in four Winter Games, Debbie understands the fitness level required for world-class performances. That's why she hired a personal trainer and set aside two mornings a week for her workouts. "We'd work on circuit training for about one and a half hours on Tuesdays, and then focus on running, cardio, and weights on Friday." At the same time she also started on the Shaklee 180 program, and the combination of the right fuel and increased exercise helped her dramatically change her weight.
I'm happy I met my goals," Debbie said. "But I remind myself that it's about more than just losing weight—it's about fitness, a healthy lifestyle, and being able to enjoy my passions. I feel better, I can do more, and I'm not ruling out a run to the 2018 Games…anything is possible!"
2014 Sochi Games
2010 Vancouver Games
2002 Salt Lake City Games
1998 Nagano Games
2003 World Curling champion
"Once you didn't have to be so physically fit to curl because the people you were competing against weren't either. But you have to evolve with your competitors."
FAVORITE SHAKLEE PRODUCTS