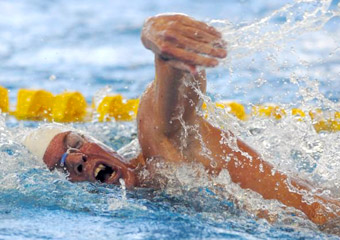 In a sport that thoroughly tests both the mind and body of an athlete, Dennis Bowsher is a force to be reckoned with. On the strength of a fourth-place finish in the men's modern pentathlon competition at the 2011 Pan American Games in Guadalajara, Mexico, Dennis qualified for the 2012 Games in London. The U.S. Army specialist and four-time national champion competed in the 2012 Summer Games in London.
Passionate about competing—and winning—Bowsher was introduced to the sport of pentathlon while still in high school. The modern pentathlon is a five-event competition: pistol shooting, épée fencing, swimming, equestrian show jumping, and cross-country running.
"It takes a lot of commitment to compete at this high level," says Dennis. "And it is not just in training, the commitment extends to things you do outside of training. Your body and mind are what are going to get you to the goals you set. You have to be doing everything to make sure your mind and body are in tip-top shape, and making sure you're getting the nutrients you need is definitely high on the list. You also need to make sure you're getting the best amount of sleep each night, and you need to keep stress out of your life so you can focus 100% on what needs to be done to achieve your goal."
Training for the pentathlon is a grueling training program. Dennis regularly runs 60 miles a week, swims 12 miles a week, fences for a total of seven hours a week, shoots for 7½ hours a week, and rides for 1½ hours during the week. "Since there are five sports that we're training for, we have to create a specific training plan to improve in each of them," he says.
Dennis' sights are now set on the 2016 Games in Rio. And you can bet he'll hit his mark.
Competitor in the London Games: 2012
Pan American Games Champion: 2011
U.S. National Champion: 2005, 2007, 2009, 2011
World Team Member: 2005, 2006, 2007, 2008, 2009, 2010, 2011
Silver medalist World Cup: 2007
U.S. Junior National Champ: 2003, 2004
"Shaklee has been invaluable to me—I use something from the whole line on nearly a daily basis, and I travel with as much as I can bring!"
FAVORITE SHAKLEE PRODUCTS