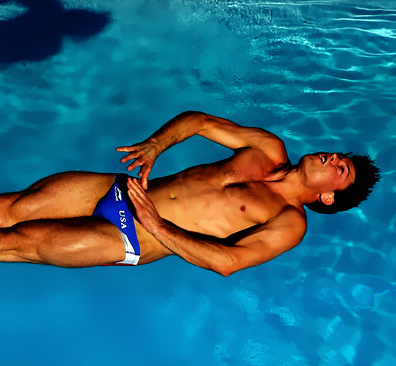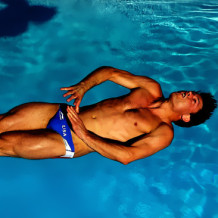 Born with a springboard in his step
Raised in a family of divers and swimmers, Ventura, California-born, Stanford-educated Dwight has been winning diving medals since he was 6 years old. In 1994 he was named Southern Pacific Association Diver of the Year in his age group, a title that all four of his siblings also held the same year. He's since gone on to compete at the highest national and international levels in the sport, helping to form what's often been called the Dumais Diving Dynasty—in fact, there hasn't been a Summer Games without a Dumais diving in it since 1996.
The son of Marc and Kathleen Dumais, Dwight has four siblings that have all taken to the water: Justin, Troy, Brice and Leanne. Dwight has been a competitive diver since 1992 and his favorite dive is the "5154B" (2.5 forward somersaults with 2 twists, all performed while in the pike position) off the 3-meter (10 foot-tall) springboard.
Using his family advantage to its best effect, Dwight has also competed internationally in 3-meter synchronized diving events with both his brothers Justin and Troy at different times.
To relax himself during long diving competitions, Dwight likes to stretch out while listening to music or watching a movie. He finds the hardest part of training for diving is the incredible amount of dedication and time commitment it takes. When he's not diving he likes to surf, cook and spend time with friends. He's also a coach for the University of Texas' Longhorn Aquatics Club.
US National Team: 2012, 2013, 2014
All-American: One-Meter Diving: 2006, 2007, 2009
Three-Meter Diving – 2009 | Platform Diving – 2006
Pac-10 Champion: One-Meter Diving – 2007, 2009
5-time senior national qualifier
4-time member of the U.S. junior national team
FAVORITE SHAKLEE PRODUCTS