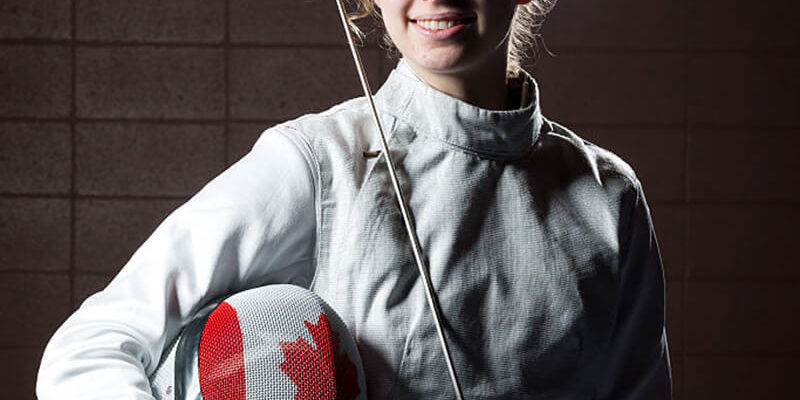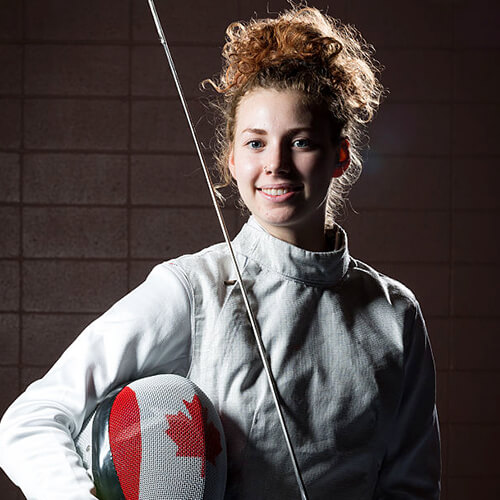 She told us so!
Eleanor Harvey proclaimed to anyone who would listen that she was going to compete in the Summer Games as a Fencer representing Canada.  Of course, that proclamation came to fruition and she did indeed represent Canada in the 2016 Games in Rio, placing 7th, the highest finish for a Canadian Fencer in Games history.
Nothing unusual about an athlete fulfilling a dream, right?  Slight twist in Eleanor's case: she was not even 10 years old and had never fenced!  Her dream sprung from watching the Games on TV after which Eleanor thought she might like to compete as a runner, and then in Karate. But after she discovered Karate wasn't on the Games docket, she chose Fencing.
As fate would have it, there was a small Fencing club in the basement of an old church around the corner, so she donned some borrowed gear and a foil sword, and took a stab at it, so to speak.
She quickly moved up through ranks, and was recruited to join the Fencing team at Ohio State University, where she won the National Collegiate Athletic Association (NCAA) Championships, was named to the Canadian Senior National Team, and won a spot on the 2016 Canadian Team to compete in Rio de Janeiro.  "The first eight weeks of my second semester was pretty rough—I was gone every weekend competing at the NCAA level and as a member of the Canadian National Team, a full-time student, and trying to live a 'normal' college life," she said.  "But I loved the studies and had some great experiences, so it was all so worth it."
The dream and the proclamation continue for Eleanor, as she works through the qualification process for the 2020 Games in Tokyo.  By the Spring of 2020, it's likely she'll be headed to her second Games, and who could doubt her?  After all, she told us so!
Achievements
2019 Pan American Games:  Silver medal, Team Foil; Bronze medal, Individual Foil, Bronze medal, Team Sabre
2018 Pan American Championships: Silver medal, Team Foil; 5th, Individual Foil
2017 Pan American Championships: Silver medal, Team Foil; 7th, Individual Foil
2016 Olympic Games:  7th, Individual Foil
2015 Pan American Games: Gold medal, Team Foil
2014 Pan American Championships (Junior):  5th, Individual Foil
More
Facebook:  FoilEleanor
Instagram:  @canadianwomensfoil