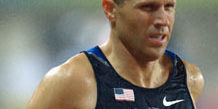 Overweight kid to world-class athlete
Eli Bremer is simply amazing. As a modern pentathlete, he fences, swims, rides a horse, runs, and shoots all in a single day's competition. He's also the captain of the Shaklee Pure Performance Team. It's hard to believe that this top-ranking athlete went from being an overweight kid with limited athletic ability to competing among the world's best in the Beijing Games in 2008.
For Eli, it's about setting goals and having something to work toward. "Waking up every morning, knowing that you're going to represent your country is pretty motivating," he says.
Intense training = gallons of hydration
Among his other major accomplishments, Eli took the bronze in the 2008 World Cup Final, won gold at the 2007 Pan American Games, and is a repeat winner of the U.S. National Championship. "Pentathlon requires a different type of athleticism," he said. "It involves a huge diversity of skills and abilities." With that comes a lot of dedication, intense training, and for Eli, a half-gallon of Shaklee Performance® Pure Hydration Drink every training day. "A typical hard week for me will include about 60 miles of running and 25 miles of swimming. Shaklee Performance gives me the fluids and electrolytes I need to keep going and push hard during those difficult weeks when I'm getting ready for a big competition."
2008 World Cup Final bronze medalist
2008 Beijing Games competitor
2007 Pan American Games gold medalist
9-time World Team member (2001-2003 and 2005-2010)
2-time U.S. National Champion (2002, 2006)
3-time Pan American Champion (2005-2007)
3-time Bronze Medalist U.S. Nationals
12-time finalist on World Cup Circuit
2-time World Cup Final qualifier (2006, 2008)
2003 NORCECA Champion
3-time Junior World Team member
Junior National Champion 1998
Runner-up for U.S. Olympic Committee Athlete of the Month, July 2006
Athlete rep to USAP Board, 2005
"Shaklee Performance gives me the fluids and electrolytes I need to keep going and push hard during those difficult weeks when I'm getting ready for a big competition."