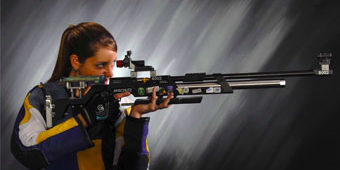 Pennsylvania native Jaime Corkish's road to 2012 gold began when she was a youngster—shooting in a BB gun program when she was 8. As time moved on, athletics continued to play a major role in Jamie's life: she also played high-school varsity soccer, basketball, and softball, in addition to finely honing her shooting skills.
So how close is the medal margin in competition shooting? Well, consider this: in the 2008 Beijing Games, Jamie missed a bronze medal in both air rifle and three-position by a 1.8-point total. Over the 120 shots she fired, that's the equivalent of 1/4"—the size of a pencil eraser—between medal and no medal.
When training for competition, Jamie's day usually consisted of two to four hours of shooting in the morning, a visit to a physical therapist to help her deal with the pain from a lower back injury, followed by hours of exercise in the gym. All the while, Jamie felt the most challenging aspect of her sport was staying mentally focused during the countless hours she spent training and competing.
In 2014, Jamie reluctantly retired from competitive shooting because of her injury. As Matt Emmons, her collegiate teammate, best friend, and three-time medalist at the Games said, "Jamie would tell you that she wasn't the most talented shooter, but she was super motivated, focused, and worked harder than just about anyone to make her dream a reality."
2012 London Games (50-meter three-position rifle) gold medal; (10-meter air rifle) fifth
2008 Beijing Games competitor
2011 National Championship (air rifle) third place
2010 World Championships (team 3-position) gold, (team air rifle) bronze, (3-position) fifth
2009 National Champion (air rifle, 3-position)
"It was a dream come true to stand on the top of the podium representing the United States and hearing our national anthem being played. Winning at the London Games is something I had worked towards since I was 15 years old."
FAVORITE SHAKLEE PRODUCTS