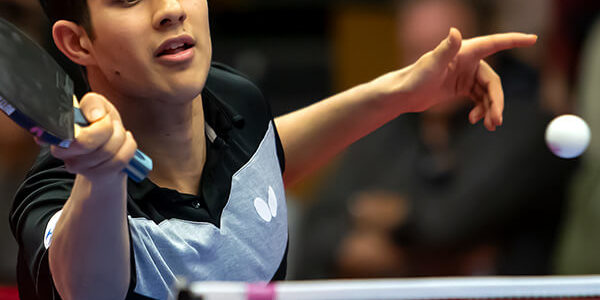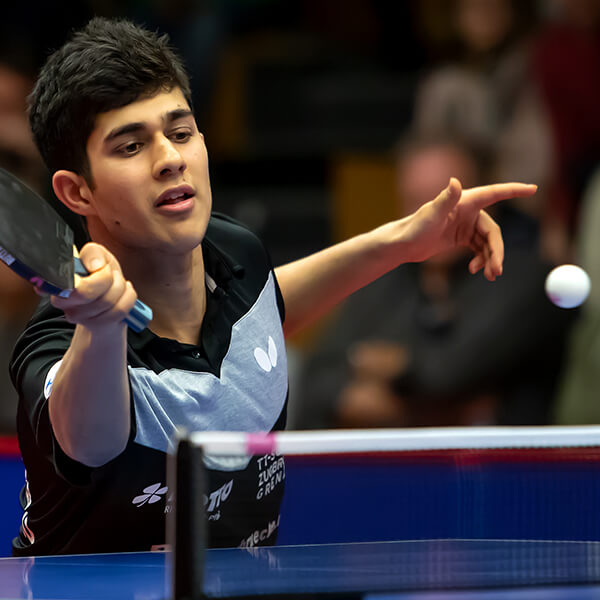 Improving for the Long Haul
During the COVID-19 quarantine, athletes in many sports were unable to train or compete, and selection processes to make the US Team for the 2020 Tokyo Games were frozen with the postponement of the Games. But for Table Tennis ace Kanak Jha, the postponement had a clear advantage: "I have more time to get better," said this two-time US Team member.
In 2016 Kanak was one of the youngest members of the US Team in Rio at 15 years old, so when the 2020 Tokyo Games take place in 2021, he'll still only be barely 21, young for his sport with many, many years of competitive play ahead. A dominant player in the US for the past four years, you might think he could use the quarantine for some rest and relaxation.
Not so for Kanak. "I have a Table Tennis robot trainer," he explained, "so I can continue to train full time." Although the robot can't quite duplicate the strategy and variables of a real opponent, the cannon can spit out serves, curves, spins, and returns at game-speed. Of course, Kanak will be glad to face a human opponent. "I have a lot of self-motivation, but I'm also very competitive. When I lose it's a hard feeling" he said, "so I look forward to improving every day." Kanak has faced the world's best players in Europe and Asia, and expects to be improving for many years to come.
"I absolutely love the sport, and I'm in it for the long haul. There are so many things to learn, and so many areas where I can improve," he explained. "There are games within the game; it's multi-layered with power, timing, strategy, quickness, and mental elements. Every shot has to be different from the last, and variety is one of my strengths."
The versatility of Kanak's game has frustrated many of his opponents, so he'll likely continue to build on that strength. "I love that this game has helped me know myself better," said Kanak. "Sports in general help you to feel emotions, build your mental strength . . . and the travel and competition experiences are amazing. I'm looking forward to playing for many years!"
So Kanak squares up to his opponent . . . a robot for now, but soon a human player. He grips his racket, settles into his ready stance, and breathes deeply. The cannon will shoot, Kanak will return, and though there is no score on the board, one thing is for sure: the robot may always work, but only Kanak will improve!
Accomplishments
2018 Pan American Singles Champion
2018 Youth Olympic Bronze Medalist
2016, 2017, 2018, 2019 US National Champion
2017 Pan American Junior Championship – Junior Boys Singles, Doubles and Team Champion
2017 Argentina Junior Open – Junior Boys Singles Champion
2017 World Table Tennis Championships – Last 32 Men's Singles
2017 US National Men's Team
2016 US Men's Youth Champion
2016 US Olympic Team (Singles & Team)
2016 US National & Junior Team
2015 US World & Pan American Team
2014 ITTF World Cadet Challenge – Boys' Team and Boys' Singles Bronze Medalist
2014 World Cup Participant (Youngest ever)
2014 North America Cup Men's Singles Winner
2014 US World Team Member
Follow
Facebook: kanakjhaofficial
Instagram: @jhakanak