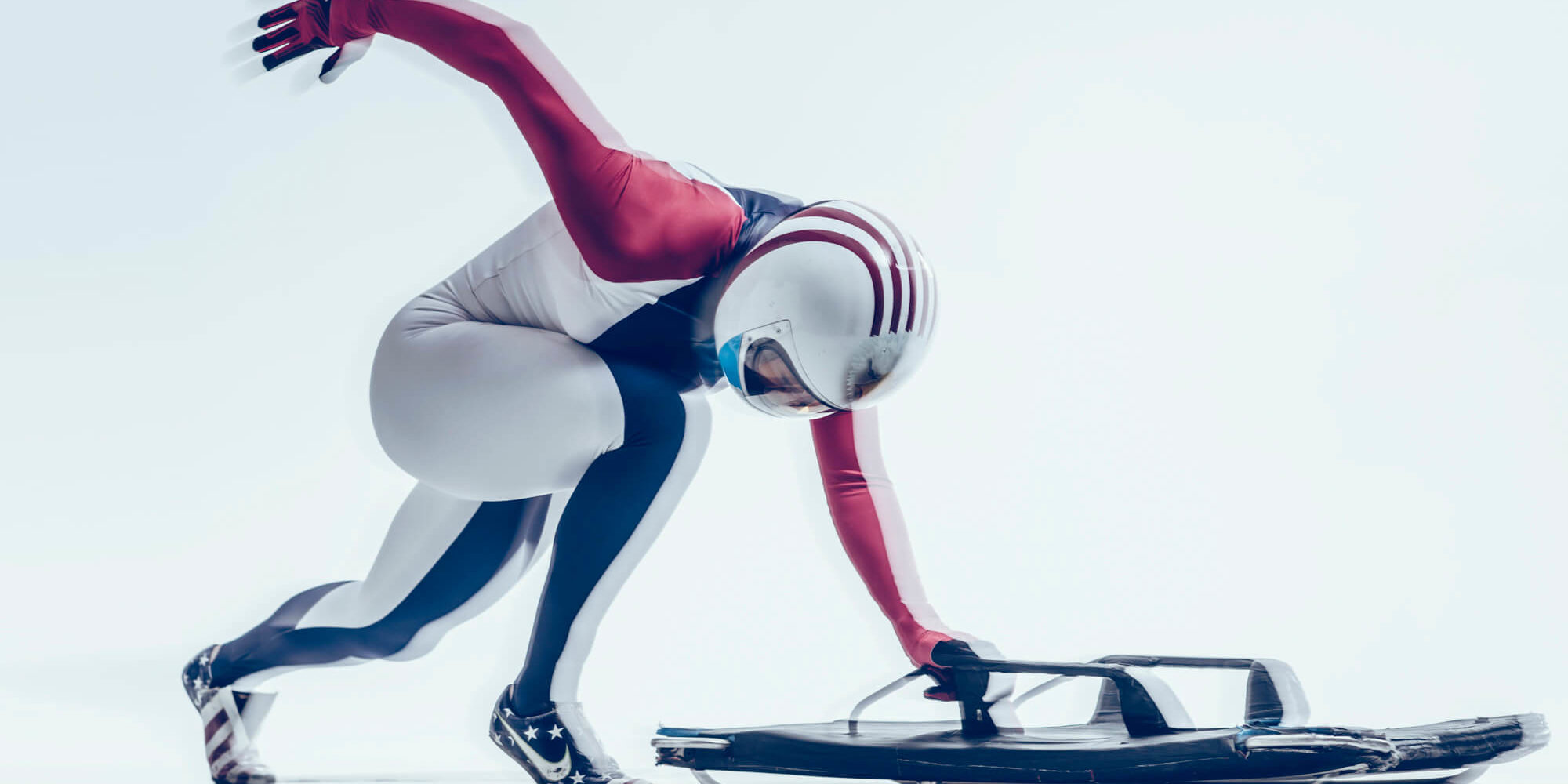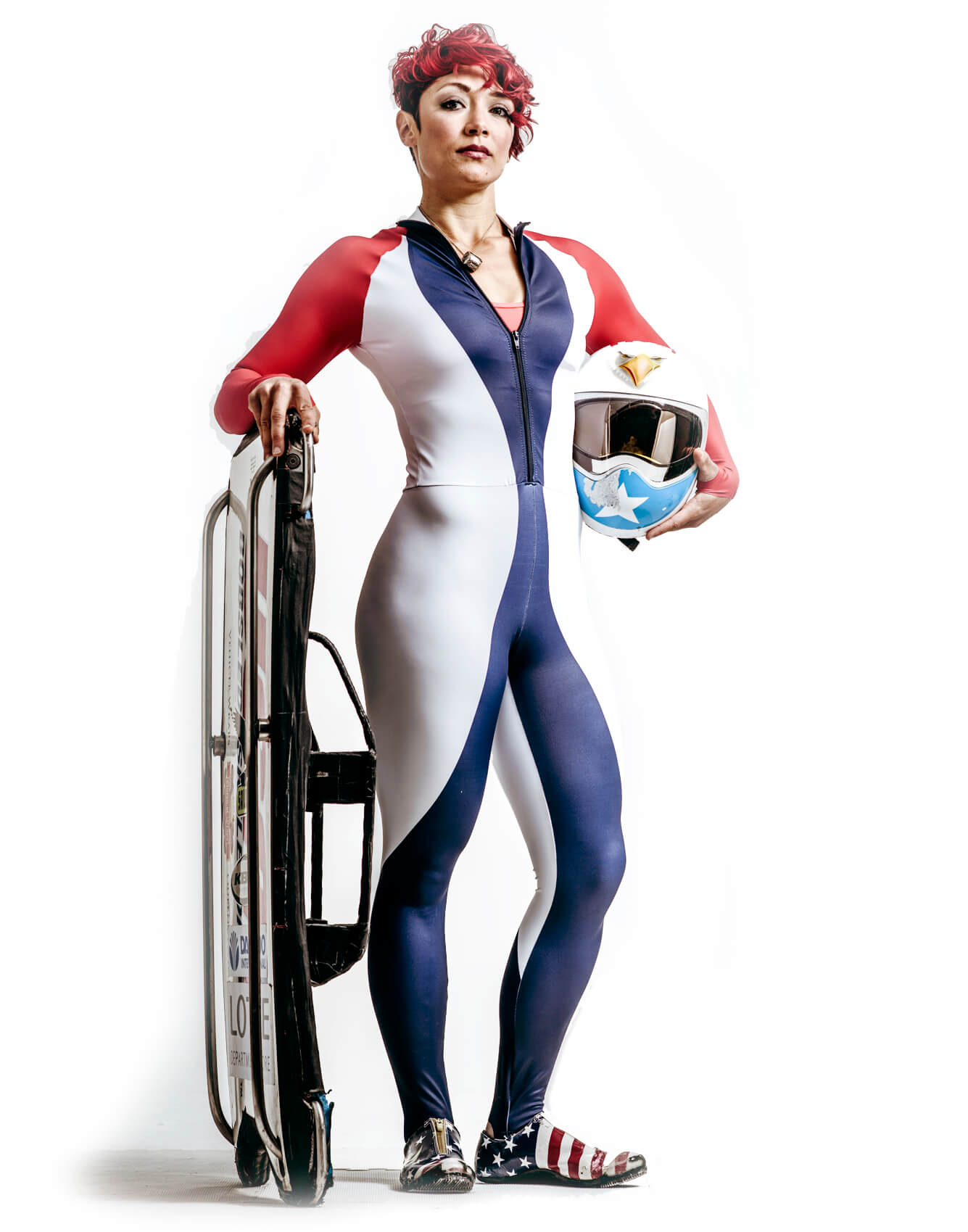 Do that one thing incredibly well
People who examine Katie Uhlaender's life universally agree on one thing:  It's difficult to comprehend the vast range of activities in which she has expertise:  Cattle rancher, coach for high-risk youth, volunteer with wildlife rescue centers, TV production crew for shows like Survivor and the Eco-Challenge, a writer, an artist, a clean sport advocate, athlete rights advocate, and a voracious reader.  She won a national title in Cycling, and competed in the 2012 Summer Games trial in Weightlifting.
Oh, and she's a four-time Team USA member in the Winter Games in the sport of Skeleton, having competed in 2006, 2010, 2014, and 2018 in PyeongChang.  And get this:  She's a front-runner to make her fifth Winter Games Team to compete in Beijing in 2022.
What makes this extraordinary striver tick, what makes her go?  "Wherever I am, I do the best that I possibly can," she said. "My mantra is 'Never give up,' followed by, 'Do it right or don't do it at all' . . . meaning, since giving up is not an option, keep putting your best effort forward."  Those concepts have powered Katie to 21 World Cup medals, and a passel of other  national and international victories and accolades in her sport. She is one of the most highly decorated and widely respected athletes in Skeleton, and even in the entire Olympic movement, where she is a leader in the athlete community.
She'll continue to lead, and continue to pursue Skeleton excellence. "Going to the Winter Games is addictive," she explained.  "But I want to finish my athletic career on my terms; in 2014 I placed fourth, and in 2018 I lost my best friend.  There's no reason I can't come on strong in 2022; for other people, 2 – 4 years is a long time, but for me, another four years is nothing.  I blinked and four Winter Games went by." A resident athlete of the Training Center in Lake Placid, she is on track to compete for a spot in 2022.
But Katie understands there are no guarantees, and she is much more process-oriented than obsessed with outcomes. "I know the future will take care of itself if I always do my best.  I'm completing my BS degree, so I'm already looking forward to the next phase of my life," she said. "It will be exciting to do fantastic . . . at whatever."
With so many strengths, her options seem unlimited.  But what is that one thing Katie thinks she does incredibly well?  "You can draw your own conclusions about that," she said.  "But for me, I only have one interest: being a good human."
Check!  We can definitely add that to Katie's unfathomable list of great accomplishments.
Achievements:
2018 Winter Olympic Games – 13th in PyeongChang
2014 Winter Olympic Games- 4th in Sochi (Bronze Pending)
2010 Winter Olympic Games – 11th in Vancouver
2006 Winter Olympic Games- 6th in Torino
World Championship Experience
2016 World Championships in women's skeleton- 10th in Igls (2/16)
2016 World Championships in team event – 10th in Igls (2/16)
2013 World Championships in women's skeleton – 7th in St. Moritz (1/13)
2013 World Championships in team event – 8th in St. Moritz (1/13)
2012 World Championships in women's skeleton – GOLD in Lake Placid (2/12)
2012 World Championships in team event – GOLD in Lake Placid (2/12)
2011 World Championships in women's skeleton – 9th in Koenigssee (2/11)
2011 World Championships in team event – 9th in Koenigssee (2/11)
2009 World Championships in women's skeleton – 7th in Lake Placid (2/09)
2009 World Championships in team event – BRONZE in Lake Placid (2/09)
2008 World Championships in women's skeleton- SILVER in Altenberg (2/08)
2008 World Championships in team event- BRONZE in Altenberg (2/08)
2007 World Championships in women's skeleton- BRONZE in St. Moritz (1/07)
2004 Jr World Championships in women's skeleton – SILVER in Winterberg (2/04)
2003 Jr. World Championships in women's skeleton- 7th (2/03)
Follow Katie:
Facebook: Katie Uhlaender
Instagram: Kateu11
TikTok: Kateu11
YouTube: Katie Uhlaender
Favorite Products:
Shaklee Performance Build, 100% Grass-fed Whey Protein shake