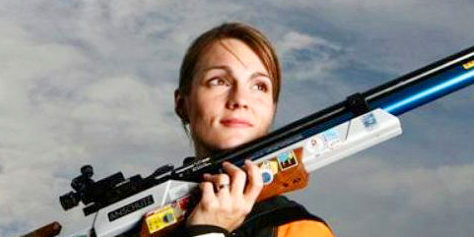 With six shooting medals between her and her husband Matt, Katy knows something about sports success. But it was disappointment in a performance at the highest level in sports that brought them together. At the 2004 Athens Games her future husband had been leading his competition with one shot left when he accidentally fired at a target one lane over, a mistake that doomed his chances of winning a medal. Katy, who was shooting for the Czech Republic national team, came over after the match to express her condolences and the two hit it off. Three years later she became Mrs. Emmons and the two are now the proud parents of four children.
A former swimmer until an illness ended her competitive days, a bored Katy originally took up shooting at the suggestion of her father—a double world champion marksman himself. After discovering she had a natural talent for the sport, Katy aimed high and set her sights on gold.
"Shooting is a different. It doesn't seem too hard, but to become a master it's actually one of the hardest sports. It combines both physical and mental endurance. You have to be sharp the whole time of the competition. I think this challenge is exactly what attracts the athletes. I've had so many people that have never shot before and thought it was boring. After trying it they all loved it," says Katy.
On her way to her gold medal, Katy equaled the qualifying round world record with a perfect score and set a new record, which she then immediately broke in the final medal round of shooting.
2008 Beijing Games, gold medal – 10-meter air rifle, and silver medal – 50-meter rifle three positions
2004 Athens Games, bronze medal – 10-meter air rifle
"Shaklee supplements help me stay energized. Being a mom is wonderful, but it's a lot of stress on your body—physically and mentally. Shaklee gives me the nutrition I need to get as much out of my training time as possible."