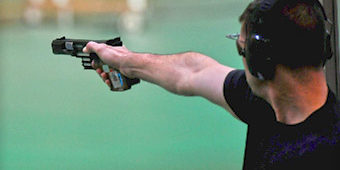 He pulled the trigger on success
In 1996, Keith Sanderson was the type of US Marine who wanted to be the best at everything—and the Marine Corps, he said, "puts a big emphasis on marksmanship."
So he practiced. A lot.
"I got to where I was the best (pistol shooter) in my unit, and then the best in the base, and then the best in the division. And then I won the Marine Corps championships twice and started competing on the national stage with the Marine Corps shooting teams," he said.
Keith's swift ascent in the sport of men's rapid-fire pistol shooting included a fifth-place finish in the 2008 Beijing Games, and culminated in 2009 when he won an unprecedented three medals in World Cup matches and was ranked as the best rapid-fire shooter in the world. A devastating forearm injury in 2010 cost him his No. 1 ranking, but after extensive rehabilitation and refining a new technique, Keith qualified for another shot at the top spot in the 2012 London Games.
Currently, Keith's a Hawaii-based Pacific Army Reserve sergeant and marksmanship instructor for both the US Army and Marine Corps.
2012 London Games competitor
2008 Beijing Games competitor
2011 World Cup Final Wroclaw, bronze medal
2010 World Championship, team bronze medal
2009 World Cup Beijing, gold medal
2008 U.S. Olympic Trials, first place
2007 Pan American Games, silver medal
2005 Military Rapid Fire World Champion, and National Championship—gold medal
"Teaching our soldiers to learn how to make their own amazing improvements helped motivate me to perform better myself."
FAVORITE SHAKLEE PRODUCTS