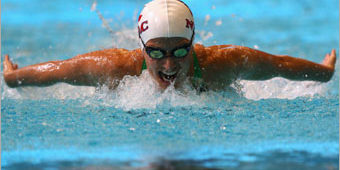 First, you've got to dream big
For all the time that Kimberly Vandenberg has spent in the water, she may as well have been born with gills.
Having swum competitively since she was 8, the California native won a bronze medal for the US as a member of the 800m freestyle relay team at the 2008 Beijing Games. She's also won the gold in the 200m butterfly at the Pan American Championships in 2011, in addition to more medals and ribbons than you can count. In her spare time, Kimberly's an ambassador for Up2Us—a nonprofit organization dedicated to ending childhood obesity, reducing youth violence, and improving academic performance through the power of sport.
After more than 20 years of early morning practices, dry-land training, watching her diet, and travelling to meets, Kimberly intends to keep swimming competitively. "I'm still motivated by the challenge," said the swimmer who just missed a spot on the national team that went to the 2012 London Games. "I've also changed up training: I've experimented with boxing, adding more yoga, and meditating weekly. I think it's important to mix it up to keep a fresh perspective on the sport."
Kimberly's typical training day starts with a 5:15 a.m. wake-up before heading to the pool for a two-hour workout. After that she's off to the weight room for another hour of lifting and lots of stretching. In the springtime, she'll swim again for another two hours, then do cardio on an elliptical machine for 30 to 40 minutes. Once or twice a week she adds a cycle of Pilates in the evening before a lights-out around 10:00 p.m.—and that's six days a week.
"Swimming has been the constant in my life. I feel comfort when I'm in a pool, even in extreme training periods. Of course there have been highs and lows, but I have no regrets," she said.
2010 Beijing Games, bronze medal
2011 Pan American Championships, 200m butterfly gold medal
2007 World Championships, 200m silver
"Dream big and think about the most amazing thing that you could see yourself achieving… because it is possible."
FAVORITE SHAKLEE PRODUCTS