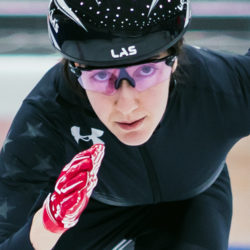 Always Proactive, Always Reactive on the Ice
Standing on the winners' podium at the Games is a dream moment for athletes across the world, and Lana Gehring can tell you all about it. As a bronze medalist in Short Track Speedskating in the Games in Vancouver in 2010, she learned that even though "the ice has no feeling," winning a medal is the best feeling a person can have.
Gehring says, "The challenging part of Short Track racing is always having to be proactive and reactive at any point of the race." With competitors vying for the best spot or the fastest lap in a race that is both short and fast, this is extremely difficult and rewarding at the same time. Gehring has discovered this time and again as she has medaled in the Games, six times at the World Championships, and nineteen times in World Cup competitions.
One of her future goals is to qualify in both the Short Track and the Long Track events at the Games, and she knows that it will take everything's she's got to get there. "As an athlete, it takes more than a well-rounded training program to get you to the top of your game. Nutrition is a big piece of the pie." With Shaklee products at hand, she is always proactive and always reactive.
Competitor in PyeongChang Games: 2018
Vancouver Games: 2014 —Bronze medal, 3000 m Relay
World Championship History:

2013 World Championships—28th place, 500 m; 17th place, 1000 m; 15th place, 1500 m; 19th place, Overall
2012 World Championships—3rd place, 500 m; 5th place, 1000 m; 11th place, 1500 m; 8th place, Overall; 2nd place, 3000 m Relay
2007–2013 World Championship Team
Six-time World Championship medalist (1 Silver, 5 Bronze)

World Cup History:

2007–2013 World Cup Team
Nineteen-time World Cup medalist (6 Gold, 7 Silver, 6 Bronze)
Facebook: SpeedskaterLanaGehring
Instagram: lagehring1
Twitter: USASpeedskaterLana
"Shaklee products have the ability to keep you fueled, focused, and recovered with state-of-the-art quality."
Performance® Sports Nutrition
Fuel your workout from start to finish.