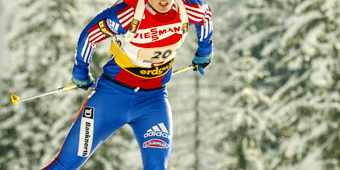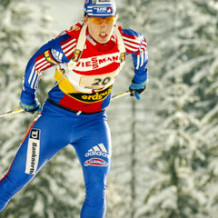 Ski fast. Shoot straight.
Colorado native Lanny Barnes represented her country in the biathlon at both the 2006 and 2010 Games, and thanks to her identical twin sister the 2014 Games in Sochi was her third chance at a medal. The short story? Both the sisters compete in the sport, which combines cross-country skiing and rifle shooting, but Lanny came down sick during the 2014 qualifying trials for the U.S. national team and narrowly missed out on a place. However, her sister Tracy made the team—only to give up her spot when she found out that Lanny would be next in line to fill it.
Biathlon is a demanding event. It requires the strength and stamina to ski across varied terrain while having the ability to control your beating heart and aching muscles enough to accurately shoot tiny targets.
Wanting to bring home a medal in the sport for their country and for all the people who helped her and her sister along the way was a huge motivation for Lanny. "Whenever things got tough, we thought about all the people out there who worked hard to support us in our quest, and we had no problem pushing harder," she says.
3-time Winter Games competitor: 2006, 2010, 2014
4th place IBU Cup: 2012
World Championship Team member: 2005, 2007, 2008, 2009, 2010
Junior World Championship Team: 2001, 2002, 2003
Silver and Bronze medalist World Jr. Championships Relay & Individual: 2002
US Olympic Committee Athlete of the Year: 2002
6-Time U.S. National Champion
"In sport, it's got to be about more than just you. It's so much more motivating when you're racing for something bigger than yourself."
FAVORITE SHAKLEE PRODUCTS