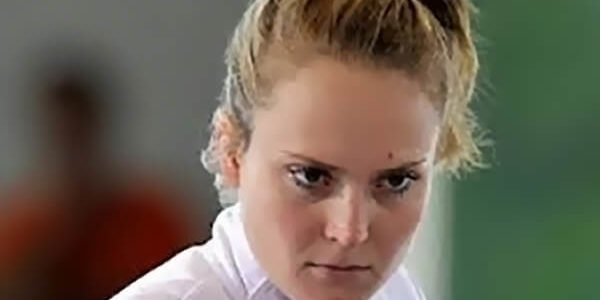 Master one sport? Try five.
Modern Pentathlon consists of five events: fencing, 200m freestyle swimming, show jumping (on an unfamiliar horse), and a final combined event of pistol shooting, and a 3200m cross-country run. For modern pentathlete Margaux Isaksen, a class with her sister played a key role in her development as an elite athlete.
"I grew up riding horses on our family farm and was always very active," Margaux said. "My sister wanted to start fencing, and my mother convinced me to take classes with her." It was her fencing coach who first saw Margaux's athletic potential and suggested she enter a modern pentathlon competition. She did, but by her own words she was "horrible." However, she was also hooked. "I just fell in love with the sport," Margaux said. She began training and, "Two years later, I made the US national team."
Margaux found success early in her pentathlon career, competing in the 2008 Beijing Games at just 16 years of age. In 2011 Margaux was crowned Champion of Champions in Sicily, Italy, and won gold at the Pan American Games in Guadalajara, Mexico. She also competed in the 2012 Games in London, and the 2016 Games in Rio.
While Margaux's rise to success has been meteoric—a testament to her hard work and natural ability—it's also been broadening. "My passport has stamps from Brazil, Denmark, Egypt, England, Germany, Hungary, Italy, Mexico, Poland, Portugal, Russia, South Africa, and Spain," she said. "And that was just in my first year of serious competition."
2016 Rio Games, competitor
2012 London Games, competitor
2008 Beijing Games, competitor
2015, 2010, 2008 World Cup, silver medal
2011 Pan American Games, champion: 2011
2011 Champion of Champions
2009 Junior World Championships
2008 Youth World Champion
"On hard days, I ask myself, 'Why on earth do I do this to myself?' Then I snap back to reality and remember that if it were easy, everyone could do it."