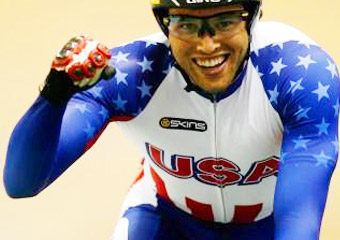 Michael Blatchford's first true passion, at age 13, was a potentially dangerous and imposing force: the Velodrome in Los Angeles, a 250-meter oval track designed for high-speed cycling that was used during the 1984 Games. But since visiting that track as a young teen, Michael went on to become one of the most dynamic American sprinters on the track circuit.
It's a truly amazing story because from a young age Michael has suffered from both migraine headaches and asthma. The damage done to his lungs is irreversible and is so bad his doctors say he never should have been able to compete on a bike—especially at a world-class level. He also learned to push his body through the pain of migraines, which not only gave him a higher tolerance for pain that made him a better rider but also diminished the effects the of the headaches themselves.
In 2004, Michael became the first junior to win an elite national title with a sprint victory at the U.S. National Track Championships. He also set a national record at the 2011 Pan American Games in Guadalajara, Mexico, earning a silver medal in the team sprint.
12 national championships after starting out, Michael, a 2008 summer games competitor, narrowly missed out on a spot to compete at the 2012 London Games. He has now retired from the world of competitive cycling to complete a long-postponed college degree.
Competitor in the Beijing Games: 2008
Silver medalist in the Pan American Games: 2011
Gold medalist in the U.S. Elite Track Nationals: 2011
Pam American Games Champion: 2005, 2006, 2007
U.S. National Championships: 2005, 2006, 2007
World Cup: 2005, 2006
Junior Pan American Championships: 2004
"Athletes are responsible for what they put in their bodies; the ideas of health and performance do not stop at just racing."
FAVORITE SHAKLEE PRODUCTS