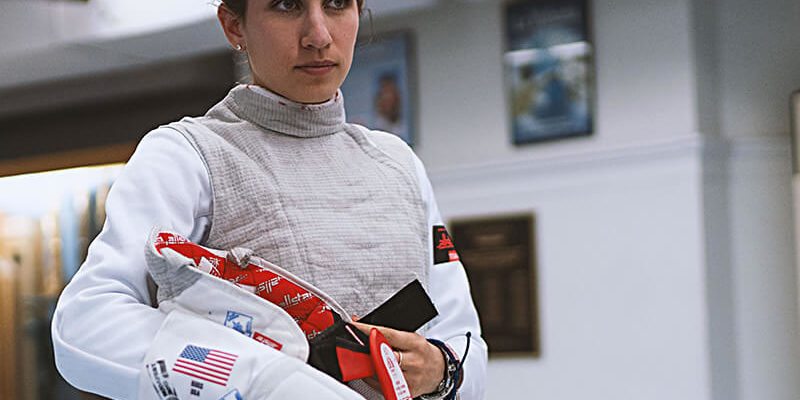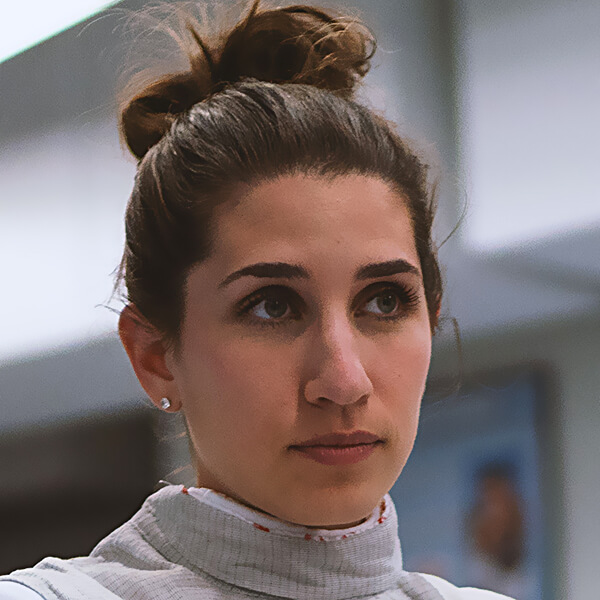 Foiled Again!
As the two foil Fencers square off to begin the match, our first thought is an urgent exclamation:  "It's not fair!"  The USA Fencer, Nicole Ross, seems to give up six inches and 40 pounds to her competitor, who sets up with an air of grandeur, dominance, and certainly size advantage.  At 5' 6" and weighing in at a buck-and-a-quarter, Nicole is considered petite in her sport.
But just a handful of bouts into this match we've forgotten about the disparity in stature because now we see the most important size measurement: the size of Nicole's heart.  She is cat-quick in her movements, a blur of precise parries and lunges, her feet gliding and tapping at twice the rate of her opponent.  Indeed, by the end of the match, it's not fair, because Nicole has overwhelmed another challenger with an outsized fighting heart to win the match going away.
"I'm used to people counting me out because of my size," explained Nicole, "but I just love proving people wrong when they doubt me or challenge me."  Nicole has also dealt with setbacks that would normally bench athletes . . . permanently.  She suffered a kidney ailment in 2011—the year leading up to the 2012 Summer games in London, but pushed through it to make the US Team.  "Then in 2019 I was chronically iron deficient, which is one reason I chose to partner with Shaklee," Nicole said.  But now she boasts a perfectly healthy blood panel with help from Shaklee's Iron Plus C Complex and Life Strips, her "life support," she happily reports.  And in 2019 Nicole tore the ACL in her "power" leg, but has every intention of making the 2020 Olympic Fencing Team.
Nicole has another side of her heart that is not typical in an individual sport like Fencing: a desire to build a team.  "I'm just really interested in mentorship and building teams.  I've been privileged to be with three core team members for 10 straight years, the team that won the World Championships in 2018.  It's been an amazing experience building and learning and growing together, and I'm honored to be the team Captain.  Supporting the team has been a hallmark of my career –kindness and decency can be a performance tool."  She added resolutely, "I know that's NOT typical.  Commonly, athletes in individual sports can be ruthless, relentless, self-centered, but being able to make the transition to a supporting person really makes a difference in my performance."
Nicole has vanquished scores and scores of challengers over the years.  Many have likely muttered, "foiled again!" as they walk down from the stage, wrongly thinking their size or experience advantage would carry the day.  But then their own heart grows as they feel a hand on their backs—it is the hand of Nicole Ross, extended graciously and with gratitude for an affirmation of her core beliefs: Kindness and decency matter!
Achievements:
2010 Individual NCAA Champion (Columbia University)
2012 Olympic Team
2016 Turin Grand Prix Silver Medalist
2016 Cancun World Cup Bronze Medalist
2016 St. Maur World Cup Bronze Medalist
2017 Team World Silver Medalist
2018 Team World Champion
2019 Team World Bronze Medalist
2019 Individual Pan American Zonal Champion
10-time senior national team
2016 career high #4 World Ranking
Follow Nicole:
Favorite Products:
Life Strip
Iron Plus C Complex