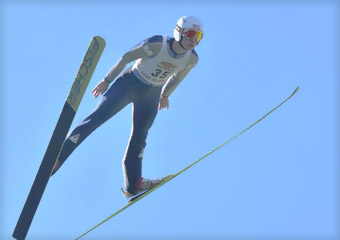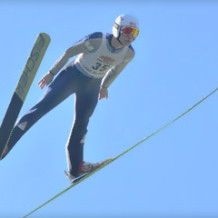 Displaying strong dedication to the sport, New York native Peter Frenette started ski jumping at age 6 and never looked back. While still in high school and one of the youngest athletes at the 2010 Winter Games in Vancouver, Peter deferred his acceptance to the University of Denver to continue jumping full time.
Peter spends many his days speeding at 60 miles per hour down a nearly 400-foot-high, 300-plus-foot-long, 38-degree angled ramp. And when he lifts off at the end of this fearless run, it's just the start—he can travel over 450 feet through the air while flying 20 feet off the ground before landing.
To build a powerful launch, ski jumpers complete endless rounds of thigh-burning squats, lunges, and plyometric exercises (where the muscles are repeatedly stretched and suddenly contracted), as well as stair-running workouts. Developing strong core muscles to maintain stability while leaning far out over their skis is absolutely necessary for a jumper, too.
2014 Sochi Games, competitor
2010 Vancouver Games, competitor
2011 World Championships
2011 U.S. National Champion
2010 Sapporo Continental Cup, silver medal
"In ski jumping, we practice year round. And let me tell you, in the summer it can get very hot in my ski suit. I use Shaklee Performance® to help me stay hydrated and energized all day long."
FAVORITE SHAKLEE PRODUCTS