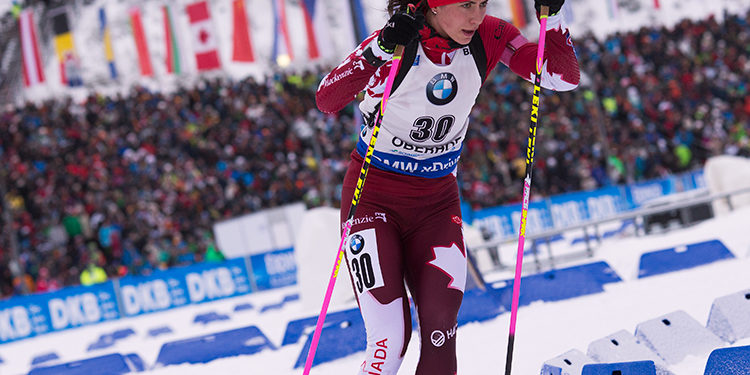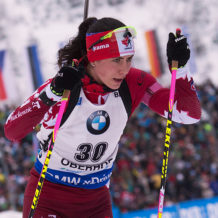 "Punishing precision" is the best description of Canadian Biathlete Rosanna Crawford's life. Biathlon is the grueling sport that combines arduous cross-country skiing with accurate rifle shooting. She has loved this sport since she first tried it as a 10-year-old. She says her favorite description of the punishing precision involved is trying to "sprint up ten flights of stairs and then trying to thread a needle."
Cross-country skiing is incredibly demanding and requires rigorous training twice a day all year long. The team alternates cross-training on roller skis, hiking, running, and biking all summer. Physical endurance is the key to success in Biathlon as the four-month season consists of 32 matches. Punishing. Then there's the daily shooting practice and strength training. Even one missed target can keep you off the podium. Biathletes push themselves to the limits and then immediately stop to shoot five steel targets at a time. Precision. Rosanna knows "balancing a healthy and active lifestyle with optimal nutrition is really important for an elite athlete. Training and racing can be really hard on the body. Making sure you are staying healthy is vital."
Rosanna chases her dreams with the support of her family, including her sister Chandra, a cross-country skier who won gold in 2006 in Torino; her parents; and her two beloved dogs. She knows keeping her life in balance with focus, determination, and confidence will allow her to always do her best.
Competitor in PyeongChang Games: 2018
2015 World Cup—2nd place, Single mixed relay
Competitor in Sochi Games: 2014
2014 World Cup—4th place, Sprint; 5th & 7th places, Pursuit
2013 World Cup—4th place, Women's relay
Competitor in Vancouver Games: 2010
Facebook: crawfordrosanna
Instagram: rosannacrawford/?hl=en
Twitter: RosannaCrawford
"To know that I was able to push my body and compete clean to achieve excellence is what drives me."
Performance® Sports Nutrition
Fuel your workout from start to finish.