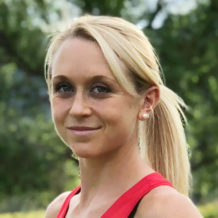 "Hungry… and humble"
The Fall of 2019 was very good for Samantha "Sammy" Schultz:  She won a gold and a silver medal in the Modern Pentathlon at the Pan American Games in Lima, Peru, qualified for the 2020 US Olympic Team, and her disciplined commitment to her routine has established her as a rising star in the Army's World Class Athlete Program. Oh, and she got married.
But this Army Specialist knows the biggest obstacles to rising can come from within: an incipient complacency or blustering bravado that often follows big accomplishments.  So Sammy formed a mantra that guides her through the highs and lows of the competitive charge:  Stay hungry and humble.
"I've endured enough setbacks to know that I always need to push hard, set high goals.  I had a bad year leading up to the 2012 Summer Games, and then a good year and qualified as an alternate to the 2016 Games in Rio," she said.  "Now that I've qualified for the US Team and performed well at the Pam Am Games, I want to keep that desire to improve and realize that I have a lot of work to do in order to be competitive in Tokyo in 2020."
This Littleton, Colorado native won't be alone in her quest.  "Getting married is a big boost, of course, but I also totally credit my friends, family, supporters, and coach," she added.  "Although I'll be the only one on the field at the Games, I realize it's a team effort and it's comforting to know that so many strong people are behind me."
Always improving . . . that's Sammy's focus going into 2020.  The five events of the Modern Pentathlon (Fencing, Swimming, Equestrian, Running and Shooting) will give her plenty of opportunities to do that, and there's no doubt the daily challenges of preparing will keep her hungry, humble, and… happy.
Achievements
2019 – Pan American Games Silver Medalist
2019 – Pan American Games Champion (Women's Relay)
2019 – U.S. National Champion
2012-2018 – U.S. World Championships Team Member
2011-2018 – U.S. National Team Member
2014-2018 – 5x U.S. Modern Pentathlon National Champion
2016 – U.S. Olympic Team Alternate
2016 – Triathlete World Champion, Individual and Mixed Relay Event
2015 – Pan American Games Team Member
2012 – Modern Pentathlon Junior World Champion, Women's Team and Relay