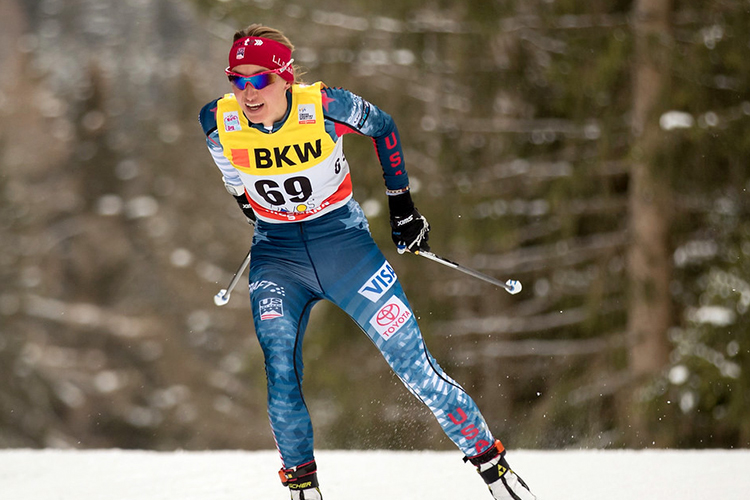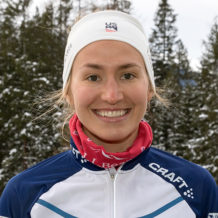 Sophie Caldwell is a cross-country skier. She loves it. In fact, you might say she was born to it. She quips, "I was born in the tiny town of Peru, Vermont. My dad is a ski coach; my mom is a former ski racer, and our neighbors own a cross-country ski touring center. So it was only natural that I was put on a pair of skis at about the same time I learned to walk!"
Sophie's life is spent chasing snow. Most World Cup athletes train between 750 and 1000 hours each year. She competes all winter and then heads to New Zealand to train during our summer, their winter. She runs in the mountains to build endurance, but she says, "I think the lifestyle and travel are both the most challenging and the coolest parts of our sport. Cross-Country Skiing is very popular in Europe and it isn't as popular in the US, so we spend our winters competing throughout Europe on the World Cup tour. We pack our bags in mid-November and usually don't return home until mid-March. It's really tough to be away from home for so long, but we are also getting this incredible opportunity to travel all over the world."
When Sophie is home, she enjoys working with programs for kids, helping them to stay active. She says, "Shaklee's mission of improving health is something I'm very passionate about. Whether health is improved through nutrition, lifestyle, or exercise, one of my biggest passions is promoting a healthy and active lifestyle."
Sophie certainly lives what she teaches and we can expect to see her in many finals and on many podiums for both sprinting and distance skiing.
Competitor at Pyeong Games: 2018
2018 World Cup, Lenzerheide, Switzerland—2nd place, Skate sprint
2016 World Cup, Nove Mesto, Czech Republic—2nd place, 4×5 km Team relay
2016 World Cup, Oberstdorf, Germany—1st place, Classic sprint
Competitor at Sochi Games: 2014—6th place, Skate sprint
2014 World Cup, Lahti, Finland—3rd place, Skate sprint
Facebook: sophiecaldwellxc
Instagram: @sophiecaldwell
Twitter: @dophed
www.sophiecaldwell.blogspot.com
"Shaklee's mission of improving health is something I'm very passionate about. Whether health is improved through nutrition, lifestyle, or exercise, one of my biggest passions is promoting a healthy and active lifestyle."
Performance® Sports Nutrition
Fuel your workout from start to finish.