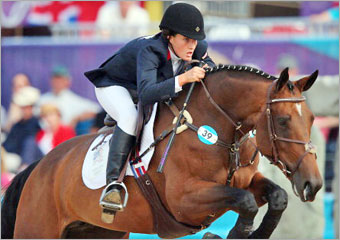 Suzanne represented the US in the 2012 London Games as a competitor in the modern pentathlon—an intense one-day performance of equestrian skills on an unfamiliar horse, fencing, running, shooting, and swimming designed to highlight the skills a nineteenth century solider would need to survive behind enemy lines. She first competed in the sport during her senior year of high school, and her career took off after taking silver in the 2009 NORCECA championships.
Suzanne, a Maryland native, was introduced to the pentathlon at her local pony club where she had grown up riding horses. She learned about shooting pistols on the family farm, and competed in her first tetrathlon (which includes all the elements of modern pentathlon except fencing) as an 8 year old. Learning to fence at 13, Suzanne spent most of her college years improving her swim times.
To prepare for the London Games, Suzanne trained for up to eight hours a day spread across five different sports, leaving her with no time for a job and no source of income. To help cover her expenses she held a silent auction, staged a pistol shooting competition, and even threw a toga party. Prior to focusing on the 2012 Games, she also raised money by riding race horses in the morning before attending her college classes.
2012 London Games competitor
2011 Pan American Games seventh
2011 Champion of Champions competitor
2011 NORCECA Championships gold medal
2009 NORCECA Championships silver medal
Two-time national runner up
"The best advice I ever received was when I was about 5 years old. My dad said, 'you can't win them all.' If I gave up every time I lost, messed up, or got hurt, the London Games would not have even been a possibility."
FAVORITE SHAKLEE PRODUCTS