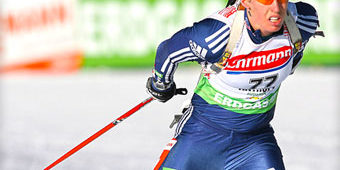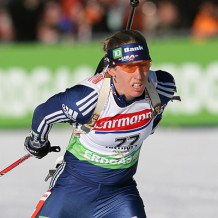 Sacrifice comes in many forms
Although she's technically five minutes younger than twin sister, Lanny, biathlete Tracy Barnes has always played the role of older sister.
"Tracy is tough as nails and nothing ever gets to her," said Lanny, who also competes in the grueling sport that combines arduous cross-country skiing with accurate rifle shooting.
That toughness comes in handy during a demanding training schedule that begins in April and extends through November—and then transitions immediately to an exhausting race season that endures through March. To the twins, however, all the time and effort is a worthwhile sacrifice.
But perhaps the biggest sacrifice Tracy is known for was giving up her place on the 2014 U.S. team so that her sister could compete. Lanny came down sick during the qualifying trials and narrowly missed out on a spot. Tracy, who made the team although her sister was having a better overall season, gave up her spot when she realized that Lanny would be next in line.
"It takes commitment and dedication to compete at the highest level in biathlon," Tracy says. "So to compete with the best, you have to train like the best. And that means giving your body the fuel it needs to perform at its best, too."
2006 competitor in the Torino Winter Games
7th & 8th place IBU Cup: 2012
Winner of the Biathlon World Team Challenge Shoot-Out – 2011
7th place Europa Cup: 2011
European Cup Team Member: 2003-2010
World Championship Team member: 2003, 2006, 2007, 2008, 2009
Gold medalist European Cup Super Sprint, Switzerland: 2004
Junior World Championship Team: 2001, 2002, 2003
Silver medalist World Jr. Championships Relay: 2002
10 National Championship titles
5 North American Championship titles
"Love is selfless dedication. And sometimes it means giving up your dream so someone else can realize theirs."
FAVORITE SHAKLEE PRODUCTS