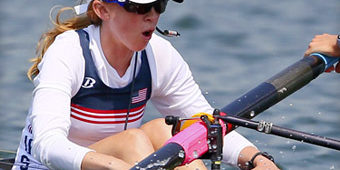 At 5 feet 3 inches and 106 pounds soaking wet, Mary Whipple is about 11 inches shorter and nearly 70 pounds lighter than most of her teammates. Sitting in the ninth seat—the only one facing forward—she's also the only woman in the boat who's not rowing her heart out. That's because as the coxswain she's the boat's helmsman, strategist, and motivator-in-chief. She's also a key reason the US has posed on the podium for three consecutive Summer Games.
While Mary may seem like a sweet, ordinary girl next door, don't let her looks or demeanor fool you. On the water, she's a relentless competitor with a voice that can part water. This California native has taken the rowing world by storm, leading her crew to five world championships, world cups, and to the 2012 London Games where they won yet another gold medal.
While Mary's position requires less physical endurance, her role is just as critical, if not more so, than that of the boat's rowers. She is responsible for keeping the crew synchronized, focused, and motivated. Her job has proven both tougher than it seems and invaluable: one rower out of sync can put the boat off track and jeopardize the team's chances of winning. And Mary's teams win—a lot.
"Mary had the rare ability to get eight very strong women all working together," said Anna Cummins, who rowed with Mary in college and on the national team. "When you lock into that, the power is something you can't even quantify."
2012 London Games (women's eight) gold medal
2008 Beijing Games (women's eight) gold medal
2004 Athens Games (women's eight) silver medal
2012 Samsung World Rowing Cup II (women's eight) gold medal
2010, 2007, 2006, 2002 World Rowing Championships (women's eight)gold medal
2007, 2006 Head of the Charles Regatta (women's eight) gold medal
2006 Rowing World Cup in Lucerne (women's eight) silver medal
2007, 2002 U.S. Rowing National Championship (women's eight) gold medal
"Rowing is the ultimate team sport. You need your teammates, and the trust we build with each other allows us to be that much faster and more successful."
FAVORITE SHAKLEE PRODUCTS